At York Mills Eye Care, we love this soup! Load up on lutein and zeaxanthin, beta-carotene and vitamin E with this refreshing cold soup made of our favorite orange vegetables. Perfect for a cocktail party.
The soup also contains Vidalia onions, which are rich in vitamin C. Despite the egg garnish, this recipe contains very little fat or cholesterol, and it's so flavorful that you probably won't want to add much salt.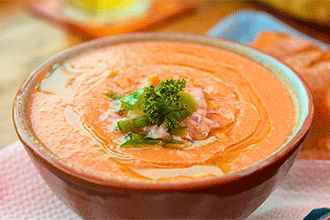 2 orange peppers, stems and seeds removed 2 lbs orange tomatoes, cut in half 1/2 small Vidalia onion, roughly chopped 1 cup fresh carrot juice 1 garlic clove 3-4 Tbsp extra virgin olive oil 2 tsp sherry vinegar salt and pepper finely grated hardboiled egg, for garnish
1. Puree the peppers, tomatoes, onion, and carrot juice in a blender until smooth.
2. Add the sherry vinegar, and while blending, drizzle in the olive oil.
3. Season to taste, and chill until ready to serve.
4. To serve, pour the soup into dishes and top with the grated egg.
Who Created Our Eye-Healthy Recipes?
Optometrists Dr. Laurie Capogna and Dr. Barbara Pelletier have co-authored books on eye nutrition, which you can order at www.eyefoods.com.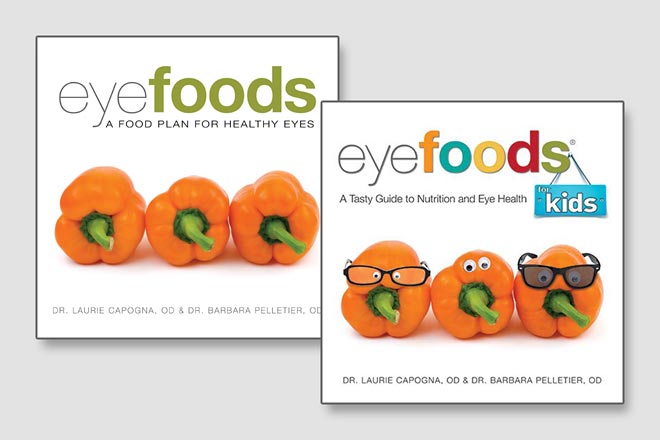 Eyefoods: A Food Plan for Healthy Eyes is a guide to improving eye health and preventing, suppressing, and slowing common eye disorders through healthy eating. The book outlines which foods offer the most nutrients for your eyes and includes tips, meal ideas and recipes.
Eyefoods for Kids: A Tasty Guide to Nutrition and Eye Health explains to kids how the eyes work and what the various nutrients are in eye-healthy foods. It also offers delicious recipes that children can make for themselves.
Celebrity chef Anna Olson is the host of Food Network Canada's "Bake with Anna Olson." Her Niagara Springtime Soup Sipper and Sunset Gazpacho recipes were developed specifically for an event with the Eyefoods authors. Visit www.foodnetwork.ca for more information and recipes.