Eyeglasses can do much more than correct your vision. They are also an accessory that adds to your appearance and image.
You may not be able to turn back the hands of time, but you can make yourself look younger with the help of a great pair of eyeglasses.
Not every pair of eyeglasses will suit your face. But depending on your face shape, you can consider several styles, colours, and sizes of eyeglass frames that can help give you a more youthful appearance.
Why Can't Any Eyeglass Frame Work?
While many of us have one of these face shapes—oval, round, square, diamond, heart, or oblong, your facial features are unique. You can find the perfect pair of eyeglass frames by measuring your face shape and knowing which parts to highlight:
Face length—from the top of your forehead to the tip of your chin.
Forehead length—the width from the end of one eyebrow to the other.
Eye shape—the size and location of your eyes.
Nose shape—width of the nose and the bridge of your nose.
Eyeglass Frames That Can Make You Look Younger
Eyeglass frames that make you look younger boost your confidence and add to your personality. Here are some eyeglass frames that can complement your face shape and make you look younger:
Cat Eye Frames
Cat eye eyeglass frames have a unique shape that swoops upwards with a soft edge. This draws your attention to the outer corners of your eyes and can give an uplifting, youthful look.
The cat eye frames are generally wider than your cheekbones and can highlight your cheekbones nicely. These frames can come in different colours and sizes, with sharp or subtle edges.
Cat eye eyeglass frames work well with an oblong, oval, round, square, and diamond face shape.
Oversized Frames
Oversized eyeglasses come with a larger frame and can hide signs that may give away your age, thus achieving an effortless younger look. They work well for males and females, are definitely a fashion statement, and draw attention to the eyes.
Oversized eyeglasses come in diamond, square, round, and wayfarer frames. They can work for oblong, oval, and round face shapes as long as they're properly sized for your face.
Coloured Frames
Choosing frames similar to your skin tone complements your face and enhances your features even more to give you a younger look. Warm-coloured tones such as berry, brown, jewel, and burgundies are good choices for older men and women.
While black is versatile and can work for all ages, it can give a dull look. However, if you prefer a black frame, try a boxy or thick black frame for a more youthful look.
Blue frames add a bit of colour, are vibrant and bold, and, despite any age, can make you look younger.
Round Frames
Round frames can give the impression of being traditional or boring. This may be true if you have a round face and wear round frames.
But if you have a square or diamond face, round frames can soften the edges and give your face a slimmer and younger look. You can even try oversized round frames.
Bold Frames
Bold frames help you stand out and declare that you're not afraid to defy age. Square or rectangular frames are ideal for a round face as they balance out your features and make your face look younger.
For a youthful appearance, try a bold colour, but pick a darker shade for pale skin tones or a lighter shade for dark skin tones. Or give octagon-shaped frames a go.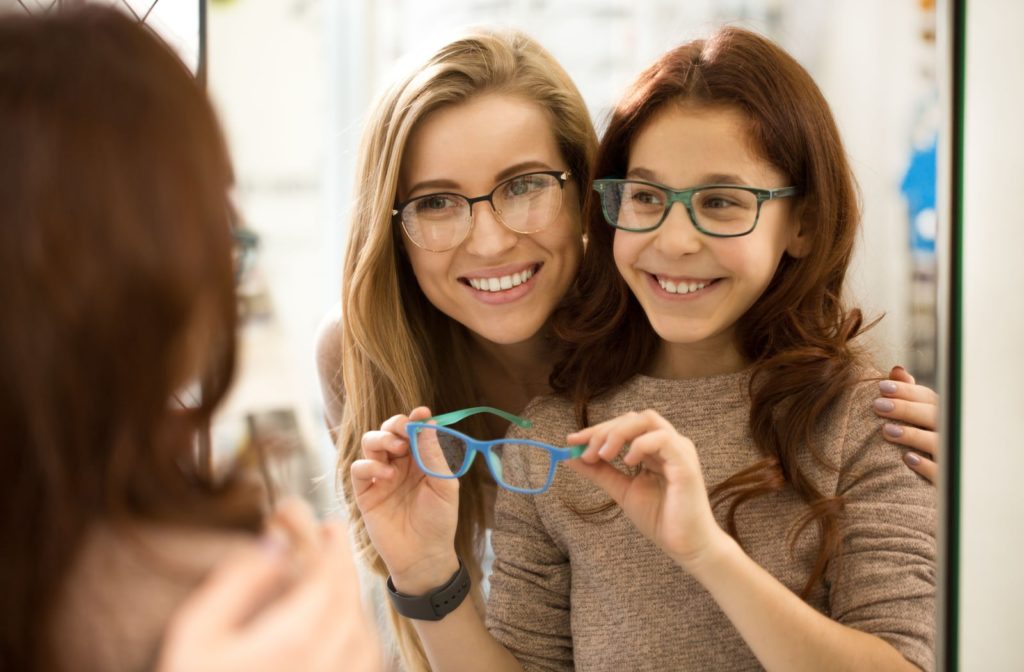 Frames to Avoid If You're Going for a Youthful Look
Face shape plays a big role in determining which eyeglass frames can help you achieve a youthful look. Frames that contrast your face shape complements your features better.
With that knowledge, here are frames to avoid:
For a diamond face, avoid boxy or narrow frames.
For a heart face, avoid decorative or oval frames.
For an oblong face, avoid oversized or round frames.
For an oval face, avoid oversized frames.
For a round face, avoid round, small, and rimless frames.
For a square face, avoid angular or boxy frames.
Eyeglass Frames For Every Look
You can feel younger by looking younger. And choosing the right eyeglass frames can help you achieve that look.
But you don't have to experiment on your own. At York Mills Eye Care, we carry a selection of eyeglass frames. Book an appointment with our optical team to help you find that perfect one.
"A face is like a work of art— it deserves a great frame."